[AdSense-A]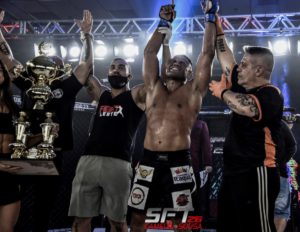 SFT MMA & XTREME (Standout Fighting Tournament) presented its final event of 2020, "SFT 26: Camelo vs. Sousa," last night in Guarulhos, Brazil. The results were explosive, especially the main event and co-featured.
In the main event, Cleber "Clebinho" Sousa (20-10-0, SFT: 4-0-0) and Eduardo "Camelo" Ramon (16-5-0, SFT: 1-1-0) squared off in an SFT Middleweight Eliminator. "Camelo," ranked among the top 10 in Brazil, was originally supposed to challenge reigning SFT middleweight champion Irwing "King Kong" Machado (16-6-2), who was forced to pullout of the fight due to an injury suffered during training camp.
Rather than waste his training camp, Ramon still wanted to fight, and he was matched against Sousa, who proved to be too much for him in the end. Returning to SFT action for the first time in more than 1 ½ years, Sousa registered a sensational knockout midway through the third and final round, punching out Ramon cold for a memorable victory, as well as becoming Machado's mandatory challenger.
The co-featured event matched Brazilian lightweights Marcilio "Black Lion" Muniz (25-3-0) Wagner Mangara (50-4-0) in a showdown for the first SFT Xtreme title. SFT Xtreme competition allows striking, kicking and knees, fighters wear 4-ounce gloves, and clinching and fighting on the mat is prohibited.
One of the most talented strikers in Brazil, Xtreme No. 2 ranked lightweight Muniz ran his win streak to 14 with a dominant performance against Mangaba, taking four of five rounds on the judges' scorecards to become the first Xtreme champion
And the winner and Xtreme lightweight champion…..Marcilio Muniz
SFT MMA's No. 1-rated light heavyweight Acacio "Pequeno" dos Santos (13-3-0, SFT: 3-0-0) swept all three rounds versus Tyago "Buda" Moreira (14-9-0, SFT: 0-1-0) for a unanimous decision, Moacir Rocha (10-4-1, SFT: 1-1-0) used a guillotine choke to submit middleweight Rafael "Sonic" silva (6-6-0, SFT: 1-3-0), and bantamweight Fernando "Bad Time" Henrique (1-1-0, SFT: 1-0-0) won his first pro fight by unanimous decision over previously undefeated Helio Nunes (2-02-0, SFT: 2-1-0).
In the lone female fight of the night, strawweight Jeanne Ruas improved to 2-0-0 (SFT: 1-0-0) in her SFT debut with a unanimous decision versus Maria Servalho (1-2-0, SFT: 0-0-0), while Marcos "Tailandes" Degli decisioned Andre "Mascote" Lima in a semipro match.
Complete results below:
"SFT 26" RESULTS
MAIN EVENT – MMA – SFT MIDDLEWEIGHT TITLE ELIMINATOR
Cleber Sousa (20-10-0, SFT: 4-0-0), Brazil
WKO3 (punch – 2:45)
Eduardo Ramon (16-6-0, SFT: 1-1-0), Brazil
CO-FEATURE – XTREME – SFT XTREME LIGHTWEIGHT CHAMPIONSHIP
Marcilio Muniz (25-3-0), Brazil
WDEC5 (49-46, 49-36, 49-46)
Wagner Mangaba (50-4-0), Brazil
(Muniz won Xtreme lightweight title)
MMA – LIGHT HEAVYWEIGHTS
Acacio dos Santos (13-3-0, SFT: 3-0-0), Brazil
WDEC3 (30-27, 30-27, 30-27).
Tyago Moreira (14-9-0, SFT: 0-1-0), Brazil
MMA – MIDDLEWEIGHTS
Moacir Rocha 10-4-1, SFT: 2-1-0), Brazil
WSUB3 (guillotine choke – 0:57)
Rafael Silva, (6-6-0, SFT: 1-3-0), Brazil
MMA – BANTAMWEIGHTS
Fernando Henrique (1-1-0, SFT: 1-0-0), Brazil
WDEC3 30-27, 29-28, 29-28)
Helio Nunes (2-1-0, SFT: 2-1-0), Brazil
MMA – FEMALE STRAWWEIGHTS
Jeanne Ruas (2-0-0, SFT: 1-0-0), Brazil
WDEC3 (30-27, 29-28, 29-28)
Maria Servalho, (1-2-0, SFT: 0-1-0), Brazil
MMA SEMIPRO – FLYWEIGHTS
Andre "Lima, Brazil
WDEC3 (29-26, 29-26, 29-26)
Marcos Degli, Brazil