[AdSense-A]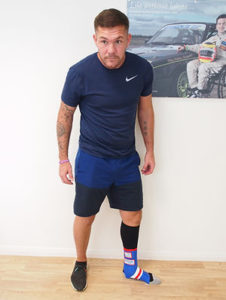 By Donald "Braveheart" Stewart
In the corner of the British warrior, and five-time world titlist, Martin Murray, on Friday the 4th December 2020, was his trainer Jamie Moore, 32-5, 24 KO's. He was asked what was next for his man, having lost against Billy Joe Saunders. Murray was due to retire two years ago and he had avoided the hints made from others well, but the view of his trainer was sought for a very good reason. He was a man who had such an illustrious career in the boxing fraternity in the UK and is now a reputable trainer: Moore was well placed to give an opinion.
A southpaw super welterweight Moore managed in his 37 fights over 11 years to amass British, Commonwealth and European super welterweight titles from his debut in 1999 at the Bowlers Exhibition Centre against Clive Johnson. He won the British and Commonwealth titles, for the first time, in 2003 against Michael Jones, in Liverpool on points. He retained them in the same year with a 5th round knockout against Gary Logan, then retained the British title against Andrew Facey in Belfast, still in 2003 with a 7th round stoppage, against Adam Katumwa in Manchester in April 2004 with a 5th round stoppage and then lost the Commonwealth title in Belfast on the 26th June 2004 against Ossie Duran when he got knocked out in the 3rd.
The British title went in the same year, in Altrincham, against Michael Jones – their second fight for that title – when he was disqualified for hitting on the break. He won it again against Jones in 2005, having lost it to him, with a 6th round stoppage, back in Altrincham – he got off the canvass to do it. He defended the title twice thereafter.
The European title came in 2009, in Wigan, on the 6th March 2009 when he knocked out in the 3rd round, Michele Piccirillo and then defended it in Sunderland against Roman Dzhuman with a 2nd round stoppage. He lost it to his compatriot, Ryan Rhodes, in Bolton when he got stopped in the 7th. It was also a WBC title eliminator and the step up to world level was never to come close again.
But for British boxing fans, Boxing News recently had his 2006 fight against Matthew Macklin as one of the best fights ever in the UK. Macklin stepped in the ring in Manchester with many words spoken, many insults hurled. Macklin got knocked out in the 10th round. This British title fight took so much out of both of them that they became firm friends thereafter because of the heat of that contest.
Macklin was dropped sickeningly in the 10th and as the crowd celebrated, Moore talked of how his stomach sank. He tried to quell the crowd as he went down to see if Macklin was OK. He was.
Moore had a pregnant wife in the crowd, unable to take the pressure and once she had her man home, wouldn't let him sleep because of a fear that he might not wake up.
But perhaps his biggest fight came in August 2014 when he was shot near Marbella in Spain.
British boxing has had its fair share of boxers who have found themselves with injuries outside the ring, be it Kell Brook, again in Spain, being stabbed or Anthony Crolla having a concrete slab cracked on his head as he tried to apprehend burglars near his home.
For Moore, he was shot not once, but twice in the early hours of an August morning whilst training that very same Mathew Macklin, with whom he had shared that massive battle.
Moore was lucky.
The first bullet came within millimeters of an artery and certain death whilst the second passed through one leg and entering the other.
Talking to the Guardian in 2014, he reflected that at the time he knew how serious it all was. "I thought: 'I'm not going to make this. I thought I was finished and it's the emptiest, most horrible feeling ever. I felt helpless and lonely – lying on a driveway at night bleeding to death. I thought: 'I can't die here … how am I going to leave my kids with no dad?'"
He was able to call himself for an ambulance, the police traced his phone and after 25 minutes which must have been agonizing, an ambulance arrived to take him to hospital. Nobody knows why he was targeted or who targeted the amiable British boxer now trainer, but it could have taken his life. Speculation is of course, rife. An innocent caught up in a gang war?
A target for the Ukrainian mob or the Russians?
Where was he shot?
Outside a property owned by Daniel Kinahan – remember the man Tyson Fury wanted to thank for getting fights over the line and the Irish Prime Minister called a man of dubious record in the Irish parliament?
And what had he thought, of whether Martin Murray should retire? It was up to Murray himself… replied Moore. Typical of the man – always respecting the sport and the people within it.
Contact the Feature Writers