[AdSense-A]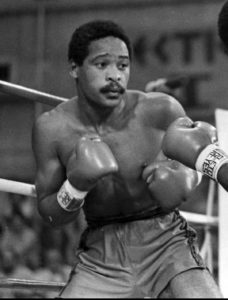 By Donald "Braveheart" Stewart
It may seem like I am obsessing with one Puerto Rican fighter one week and then along comes another the following week, but I am not!
Honest!
This week I had a look at three times world champion Wilfred Benitez, 53-8-1 31 KO's, who fought professionally no fewer than on 62 occasions. He stands out because he became the youngest, at the age of just 17, of the Puerto Rican world champions!
He was also no slouch, having been active during the years, in his weight divisions, of Roberto Duran, Thomas Hearns and Sugar Ray Leonard – all of whom he fought!
For people like me, who hail from Scotland, people claiming your heritage though they may not have been born within your borders is quite normal. Within Rugby Union for example we had a number of New Zealanders taking their places in the Scotland team due to the rules at the time around where you lived; they became known as Kilted Kiwis.
Any diaspora will induce belonging within their number and not always an affinity to the country in which they find themselves. Add to that the racism that many face, as they grow up, and it is hardly a surprise that some turn their backs on the country of their birth and head towards the country of their heritage.
Wilfred Benitez, born in New York was one such fighter. A pro at only 15 years of age, managed by his father and born into a family of boxers, he had an inescapable heritage around him that probably held him tight as he grew into it. He was a poster boy of that diaspora and "Radar" as he was known, because of his uncanny knack of knowing his opponents' tactics, fought in his early years at his homes of New York, Puerto Rico and the Netherland Antilles – all close enough to build as fearsome reputation. His debut came in San Juan in 1973 when he beat fellow debutant Hiram Santiago.
By the age of 16, both the WBA and the WBC ranked him; Puerto Ricans equally so. Twenty five fights and twenty five wins saw him in his first world title fight as he took on 60 fight veteran Antonio Cervantes for the WBA super lightweight title in San Juan. On the 16th March 1976, with classmates apparently watching he captured the belt in a split decision win against the champion. If nobody knew this kid before then by the grace of God, they knew him now.
He then moved up in weight to take on Carlos Palomino, on the 14th January 1979, again in San Juan and took the Lineal and WBC welterweight belt in yet another split decision win. After a first defense, a win against a man who had forced a draw against him Harold Weston, once more in San Juan on the 25th March 1979, the next task facing this young man came in the shape of one Sugar Ray Leonard.
Could the young pup, keep his belt?
In Caesar's Palace, Las Vegas, on the 30th November 1979, the answer was no. With seconds remaining of the final round, he was stopped: he was 21 years old.
His response was to move up to super welterweight and become the youngest three weight world champion when he, aged 22 years of age, on the 23rd May 1981, knocked out the WBC champion at that weight Maurice Hope; it became the knockout of the year and was a brilliant return to Caesar's Palace for the young man.
A man who loved a record, he then took on Carlos Santos in the first ever world championship fight with two Puerto Ricans – in Las Vegas, to defend his title. Benitez held onto it on points.
Having won the title, he took on his first defense against Roberto Duran. Back at Caesar's Palace he came and unlike the Leonard fight, this time Benitez in a unanimous decision defended and held onto his crown with a 15 round points win.
Next up?
Thomas Hitman Hearns. The date of destiny for the third legend was 3rd December 1982 in New Orleans where he lost a majority decision on points to Duran; he was still only 24.
Three massive legendary fights, world titles at three weight division up was not the trajectory now for his career. Coupled with a love of a lifestyle that was simply not conducive to being a top athlete, the decline began.
Like many fighters past their prime the story does not become one of great fights and impressive displays but unfolding melodrama. In 1986 the most bizarre of which was going to Argentina, losing to Carlos Herrera, having his purse, documents and passport stolen and being stranded in Argentina for a year before being able to fly back home to Puerto Rico. His inability to escape an answer to whether the money he earned while fighting was still in his bank account to fund his life choices!
Even the legendary Kronk trainer, Emanuel Steward was unable to resurrect his career and after several come backs, he hung up his gloves in 1992 after losing a ten round fight with Scott Papasadora in Winnipeg.
His fighting days, however, were not at an end. Like many boxers after their final professional bell he has apparently had troubles that he did not have to seek. Retiring at the age of 32 when many fighters keep going, you would think the ravages would have missed him out.
Not so.
In his late 30's and back living in the family home of his mother, he needs daily assistance. Apparently, he was, in his late 30's also in a coma from which he woke up but the issues of brain damage from his career are all too obvious.
The illness has brought together people to support him and the last I can find is that after his mother passed he was moved with his sister to Chicago and int is there in a hospital where he now apparently resides.
Small enclaves and countries have big heroes. They do not come without their flaws and Benitez was one of the biggest and the best. Inducted into the Hall of Fame, this guy is without doubt was a poster boy for the fight game but now may serve as a warning to those blood thirsty followers who speak or type without thinking.
Contact the Feature Writers