Retired Career Navy Man, Award Winning Boxing Journalist, Actor, Host of The "Bad" Brad Berkwitt Show, & Florida Hall of Fame 2021 Inductee "Bad" Brad Berkwitt Is Available for Talk Shows, Podcasts, Sports Shows and Personal Appearances
[AdSense-A]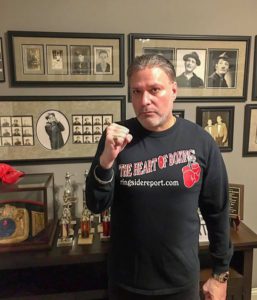 RSR Press Release
For 20 years and 28 days, "Bad" Brad Berkwitt served in the US Navy honorably around the world with 16 ½ half of them in the intelligence field. When he retired from the Navy in 2006, he spent another 6 years in the intelligence field. Finally retiring for good in 2012, when his last job was working as a government contractor (Program Manager) with the Department of Homeland Security.
"Bad" Brad is also a former TV Boxing Analyst (12 years).  Award winning Author and Boxing Journalist for the last 24 years. Always wanting to challenge himself, Berkwitt followed in his late father Alvin's footsteps and went to Acting Class in 2013. Shortly thereafter, the roles started coming in for the next year.
Berkwitt's voice for both Civil Rights and Social Issues that his father instilled in him at a very young age has never been stronger! He chooses at whatever cost, to speak out and always be on the right side of history!
If you have an interest in booking "Bad" Brad Berkwitt for an interview or personal appearance, click HERE.
Find out more about "Bad" Brad Berkwitt, click HERE.
"Every Act Of Kindness Is A Little Love We Leave Behind."—"Bad" Brad Berkwitt