Alan Rachins: L.A. Law, Writing Scripts, Eli Stone, Norman Osborne, Memoirs and More…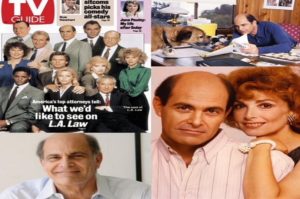 Exclusive interview by Karen Beishuizen
We all know Alan Rachins from the great TV Show L.A. Law where he played Douglas Brackman. But did you know he started out as a screenwriter writing scripts for shows like Hill Street Blues and The Fall Guy? He currently works on his memoirs and lives with his wife of 44 years in Los Angeles.
KB: We all know you best as Douglas Brackman in the series LA Law: how did you get this role and how hard was it with all the legal terms to come across believable as a lawyer on TV?
You've probably heard the saying that it takes years and years to become an overnight success. That was certainly true of me and LA Law. It began in the eighth grade. I knew I wanted to be an actor, but my father had a business that he wanted me to go into and he certainly didn't take acting seriously. I went to the Wharton School of Finance, although I wanted no part of that business. After 2 1/2 years I quit college and went to New York to try to be an actor.
For the next 10 years I studied acting, I went to auditions, I did small parts on Broadway and off-Broadway as a spear carrier. I did dinner theatres and regional theatres throughout the country playing lead roles. At a certain point, I moved to Los Angeles. Looking for an acting class, a friend suggested one that was just starting and there was Joanna. As soon as I saw her, I knew she was for me. After about a year, we got married. One day, Joanna said to me, "You know I have this friend from New York, his name is Henry and he's a film director. I think you and he would get along. You should meet him." We went to dinner with Henry and his wife and became friends.
Soon he said, "you know we really like going out to dinner with you guys and we don't want to get into a situation where you feel you're obligated to say you'll pick up the check because we know it's hard for you to pick up the check so let's just do this. I'll pay for the dinners all the time and they'll be no argument, okay?" Even though that was a bit of a pinch to my pride, it was an offer I couldn't refuse. So, Joanna and I spent a lot of time with Henry and his wife. Henry had an idea to make a movie about this married couple, and their best friends. Joanna and I would play the best friends. But trouble developed in their relationship, they separated and divorced. The end of their marriage also meant the end of that movie. So disappointing. Joanna and I had a baby. Two years later, Henry had a new idea. He would make a movie about his divorce with his ex-wife, and we would still play the best friends. One of the basic things out here when you're trying to get acting jobs in film or television is the question that people ask, "Do you have any film on you?" if you don't have any a film of your acting, the door is closed. It can be very difficult, but if you do have film on you and you get to show it and people like it, they can open doors.
Sometimes things can fall into place. If you've done the work and are ready when opportunity knocks, good things can happen. So it came to pass that Joanna's brother was the producer and creator of Hill Street Blues which was amazing. He got fired off that project because he didn't get along with the money people. He started developing a new show. Things came together in an extraordinary way. Henry's movie was selected to be the first film shown at the prestigious Los Angeles film festival. The reviews were excellent. We decided to invite Joanna's brother to the screening. It was my first premier. it was thrilling. After the screening, Steven said, "You know I'm developing a new show and I think I might have a part in there for you." Fantastic! After few months, when I hadn't heard anything, I called him to say, "Don't forget me." He said, "No, we're working away here." A couple of months later, The LA LAW script arrived. It was a dream of a script. There I was, picked to play Douglas Brackman. I love that part. I love the show. And the cast and crew were wonderful. It ran for eight years. I was nominated for an Emmy for best supporting actor and a Golden Globe for best supporting actor. It was life changing. Sometimes things work out.
KB: You enrolled at The American Film Institute in 1972 in the writing and directing program: You wrote and sold scripts to TV shows like Hill Street Blues, The Fall Guy?
I was living in New York when I read about the American Film Institute's program in writing and directing. It was just what I wanted. I had written a script which I submitted to them with my application. It's accepted. I move to Los Angeles. The American film Institute was in this huge, impressive mansion in Beverly Hills. It made you feel the delusion that you've already made the big time. I used the scripts I wrote in the AFI to get an agent, who sent me out into the world of television. You go to various shows and pitch ideas. For Hart to Hart, I wrote 20 ideas and was feeling very confident. One by one they shot down every idea. And when I got to the end, I added one more idea which I had eliminated for not being good enough. Bingo, they bought it, Harts of the West. They still rerun it occasionally. Years later, as an actor, I got to play the villain in one of those two-hour movies that they made for Hart to Hart. That was very exciting to wind-up meeting them and acting with them after all those years. There was a show called The Fall Guy. You probably haven't seen it. What was interesting about that show, and maybe not interesting to anyone but me is the fact that the producer said here's what we're going to do with this story: we have footage from a movie called The Driver, a 20th Century Fox film. We have some incredible car chases from that movie and what we want you to do is use those car chases in your script, so you must watch the movie, pick out the best car chases and figure out a way to integrate them into the show. Even though Ryan O'Neal was at the wheel in the actual movie, they could shoot that with the long shots and then go in for the close-up and you put the star of The Fall Guy behind the wheel.
So, it was a very interesting technical kind of assignment. That's one of the things that makes this whole business so interesting I mean there's all kinds of things that go on that are challenging.
KB: Are you still in touch with the cast of LA Law? Maybe a reunion planned? Would be great to see all of you together again.
Making friendships in show business is complicated and maybe it's because everybody is trying to get ahead. They're working on their careers, and it requires a lot of effort. It's just the way it goes. The cast of L.A. Law got along during the shoot. One of the reasons is that L.A. Law was everybody's first TV show except for Susan Dey. Everyone knew how incredibly lucky we were to be here, and they appreciated it. There were no ego conflicts. There was mutual respect and appreciation for each other's contribution. It wasn't like one person was getting everything to do leaving the other people grumbling. it was a group effort. The quality of the show, the people who were running it, everything about it was the very best. The level of support that you get in working on a show like that in terms of the costumes, the camera department, the sets, all these people are trying to make you look good.
You walk into this glorious environment, the world of L.A. Law. After the show ended, and the last night of shooting, no one wanted it to end. We worked from 7am to 6pm. Since then, everyone goes their separate ways pursuing their careers. But we've had some great get togethers. There was a couple of television talk shows, a kind of mini L.A. Law reunion. It was chaotic. We are all in separate dressing rooms, waiting our turn in the hair and makeup chair. Not much time for visiting. Michael Tucker suggested we all go out for dinner. We picked a restaurant and gathered for dinner. It was a great idea. No distraction. Just everyone sharing a meal and catching up with one another and expressing how grateful we are for that extraordinary experience of L.A. Law and how much affection and respect we have for one another. There was also a Zoom reunion fund raiser during covert. We were all in our homes, but we could see each other on the computer screen. And it's always terrific to see one another, but everybody is all over the place, they're in different parts of their lives. It's just the nature of the business that you're not necessarily in touch with people, but when we are, when the occasion brings us together, it's just wonderful. We appreciate how fortunate it was to have had that experience.
KB: You played a lawyer in the show Eli Stone and your name Brackman can be seen on the wall in inverted letters behind you.
Was this done on purpose or more a coincidence?
Most things you see on a movie set are the product of many discussions between the producer, the director, the camera man, the set designer, and anyone else who can weasel their way into the conversation. So, while I vaguely remember the inverted Brackman sign, it would have been put there by design. A scene you do on film, it may last two minutes, but it takes about three hours or more to film it. Sometimes, you get to know the actor in the scene because you may be stuck in a car or at a table with them, with nothing else to do while they change the lighting but to talk and make their acquaintance. Johnny Lee Miller was the actor who played Eli Stone. He was in almost every scene which meant he had many lines to learn that day. And that's what he had to do. He sat there for most of the three hours learning his lines, while I sat there, waiting, waiting, and waiting. "I don't mean to be rude, but I have to get these lines", he shrugged. I nodded that I understood.
KB: For 2 seasons you were the voice of Norman Osborne in The Spectacular Spider Man: Who asked you to do this and how hard is voice over work compared to acting?
As far as who asked me to do this, it was one of those auditions where several actors come in to read and compete for the role. I was very pleased to win the job. I think voice work is easier and a lot of fun. Here's the way they did the Spider Man. All the actors, about 8 or ten, were together in the recording studio. Each of us stood behind our own personal microphone. That was fun to be all together in the room. And we would do the acting as our lines directed. What is ridiculous and so funny are the fight scenes. In Spiderman these characters can be very violent. They may throw one another against a wall, hit one another in the stomach. All of these require sounds. There we are going, oooof! aaah! urgh, and many other sounds that I don't know what letters to use to spell them. It's wonderfully ridiculous. The hardest thing is keeping a straight face.
KB: You are a member of Mensa? The high IQ society. What is the minimum to be accepted and what is your IQ?
The minimum IQ to get into Mensa is 132. I doubt that I was higher than that. I'm happy to have just slid in there. Here's why it was important for me to join. I was always a B or C student in grammar school, high school, and college. I just could not study. When you have a kind of chaotic or difficult or not comforting home situation, it can produce a certain amount of anxiety.
That anxiety can make it difficult to be able to be quiet within yourself to study. I remember getting all C's once in the eighth grade. My father was very unhappy about that. In my sophomore year in high school, I took physics. I opened that physics book the first day and said to myself" holy S" I am never going to learn this. Terror forced me to study physics. I got an A for the 1st semester. Then I realize it wasn't that scary. I slacked off and got a B for the second semester, followed by two Cs for the last two semesters. That A told me that if I were able to focus, I could do the work. It always bothered me that I was an underachiever in school. I wanted to prove to myself that I was better than that. I thought getting into Mensa would be an enormous boost to my confidence. It was a challenge. I went into training. I bought the practice book for the test. I took the tests. I looked up the words I didn't know until I felt ready to take the real test. Bingo. I got in. I worked at it. I achieved what I wanted. It gave me a big believe in myself. With that belief I was able to write the script that got me into the American Film Institute. A truly satisfying payoff.
KB: Are you currently still active in the industry and are there any people you would like to work with?
Am I currently active in the industry? Good question. You know it's a tough business. The older you are, the tougher it gets. I choose to hang in there. I'm patient. Maybe something will happen and maybe it won't. I've been fortunate to have done L.A. Law and Dharma and Greg, two very different shows. Both were a pleasure. Plus, the many other TV shows and movies, I did that were challenging adventures. You keep your hat in the ring; you keep your fishing rod in the water, and you see what happens.
KB: The world is coming out of a 2-year pandemic with several lock downs where all you could do was stay at home: How did you spend your time? Any hobbies? You have your own production company?
My wife and I spend a lot of time at home. Luckily, we thoroughly enjoy each other, so the Covert confinement was doable. Prior to Covid, I sang in a weekly cabaret. Covert closed it down, but it migrated to Zoom. We were all these little postage stamps of Zoom images. I also have a weekly Zoom call with three of my friends from high school. Keeping up with people has been something I do, whether it's email, texting; finding out how they are, and what they're doing. We kept playing tennis during Covert. It seemed safe, being outside. I love Turner classic movies, and there was a lot to watch on streaming platforms. I watch sports, tennis, football, women's basketball, particularly the UConn Connecticut women's team. We have a married son who lives an hour and a half away. We got to visit a few times wearing masks. These are the things that come to mind right now. I've been writing a memoir, a picture of growing up in the Boston area in the fifties. Having something to work on, to concentrate on is a great blessing.
For many things I am grateful. And I thank you for inviting me for this colloquium. I hope this was somewhere in the ballpark of what you wanted.
Check out Alan's website: HERE