Holy Blasphemy: Trump's Selling The Bible Now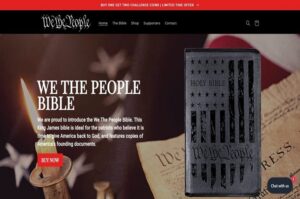 By Nikki Slusher
Former President Donald Trump has embraced full on blasphemy. His son, Donald Trump Jr., announced that the latest item they will be grifting off of is the Holy Bible.
No, I'm not joking. Marketed as the "We The People Bible", you can get your own copy (without any additional gear) for $69.99. The official website states, "We are proud to introduce the We The People Bible. This King James bible is ideal for the patriots who believe it is time to give America back to God, and features copies of America's founding documents." There's also multiple bundle packs available for purchase costing as much as $497 depending on your selection.
Embracing Christo-fascism even further, the site says "The We The People Bible was designed with the patriot in mind and features a vertical reversed American flag design that represents a country in distress. Our bible is proudly made in the USA and has been designed with large print that delivers an easy reading experience to anyone looking to explore the tried-and-true King James (KJV) translation. Every We The People Bible also includes easy-to-read copies of America's founding documents including the United States Constitution, Declaration of Independence, Bill of Rights, and the Pledge of Allegiance."
The decision to sell the Holy Bible labeled with your own name is truly bold in itself. But to stamp so-called American values into it should be ringing every sane American's alarm bells. I'm more surprised it took Trump this long to actually do it. This has to be an easy money maker for him considering his base considers him the second coming of Christ.
It's only the third day of 2023 and things are really kicking off to show us what kind of circus is in store for us this year. To my fellow Christians let me tell you a little secret — the quickest way to really turn people off from the church is toting around a Trump Bible. Just remember that nothing drives out Democrats to the polls like implementing Christian nationalism as blatant as this new Trump scam.
Click Here to Order Boxing Interviews Of A Lifetime By "Bad" Brad Berkwitt