Ringside Report's Fight Report of Recent Results and Upcoming Bouts Around The World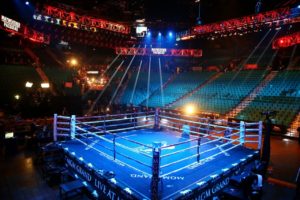 By Donald "Braveheart" Stewart
As easy as 1, 2, 3 or A, B, C here we have what happened, what is about to happen and what is due to happen in the boxing world from the perspective of a fan with a laptop, in the heart of Scotland. Three fights, all being talked about and talked up and not all for obvious reasons.
Flash Back – Ringside Report's Rear View Mirror – one fight from the week past from a Scottish angle (Look it up on a map…)
UK – biggest and most notable – what should be the biggest news in the UK boxing scene.
Saturday 28th January
In Wembley, BT Sport, light heavyweight Anthony Yarde lost to Artur Beterbiev for the IBF, WBC and WBO titles by stoppage in the 8th round.
In an old Toe 2 Toe, Sky Boxing podcast, British light heavyweight champion Dan Azeez told the story of how he was used in Beterbiev's preparation for the Joe Smith Jr. fight for sparring. He was not the only one. He told the frightening tale of how the sparring partners would get together at the beginning of the day and work out how they should tackle Beterbiev collectively. Collectively. And they still feared being the last in against him as much as being the first. That talks to the power of Beterbiev and his tricky win against Yarde shows just how good Yarde's attempt to beat the Canadian based Russian was.
Artur Beterbiev has only ever lost twice, and they were both in the amateurs. He was never likely to lose but he was pushed harder than ever before and over seven rounds he struggled at times against Anthony Yarde until he caught him and finished him off. Up until then, Yarde kept pace, traded blows and was a worthy opponent. For a while many believed it could have been his night. But it was not to be.
Despite what many thought, this was no mismatch and by the end, Beterbiev was seen as a marked and hurt master of his craft, who was warming into the fight. By the eighth it he was getting ready to move up his gears. Yarde, up until that point matched him until it became too much for him and he was being punished. That Tunde Ajayi, his trainer threw in the towel, was testimony to the bravery of Yarde and the brutality of Beterbiev.
In the end both boxers left with heads held high and reputations enhanced.
My View
Trainer Tunde Ajayi, who has been with Anthony Yarde since he was 19 years old, pulled his man out at just the right time. It was never going to be a fair battle after Yarde got hurt. Beterbiev was singularly brutal and mercilessly hunting towards the end.
Now, we all want to see Beterbiev take on Bivol. The rematch that Bivol is entertaining against Canelo may come next for him, but if he comes through that, early in 2023, then in September, in the States, a unification fight would be ideal. Of course, if Bivol loses his belt in a fight with Canelo, this would be the end of that prospect, wouldn't it?
Or would it?
For Yarde, who showed that he was world class, the next opponent is likely to be nearer to home – Callum Smith, possibly. Why? After all he showed he was well able to mix it with Beterbiev? He needs some rounds under his belt to sharpen him. He has fought twice for world titles – against Beterbiev and previously Kovalev – both of which ended in losses. What is being analyzed now is his carefully plotted career pathway, as many believe it did not truly prepare him for Beterbiev. He needs to find another pathway and that might provide us in the UK with some cracking contests. For Yarde, though his reputation has been cemented, his next few fights may provide a legacy for him.
Oh and for some reason, light heavyweight, Scot Willy Hutchinson did not return!
Fast Forward – the week to come as viewed from one side of the Atlantic
UK – biggest and most notable – what should be the biggest news in the UK boxing scene
Saturday 4th February
In Madison Square Gardens, featherweight Amanda Serrano seeks to break more records against Erika Cruz Hernandez for the IBF, IBO, WBC, WBA and WBO titles. We also have super featherweight Alycia Baumgardner up against Elhem Mekhaled for their IBF, IBO, WBC, WBA and WBO titles!
Whilst it has become quite cliched, the fact is that women's boxing has truly taken off. It has eclipsed the men's game because the best is fighting the best. There are likely to be, very soon, four belt holders in almost all the weight divisions.
But what we are also seeing are champions who hold all the belts in their divisions, willing to fight a similarly titled campion from another weight division. And so, Amanda Serrano faces Erika Cruz Hernandez with all the belts on the line at featherweight before rematching the lightweight champion with all the belts at lightweight: Katie Taylor. That's a lot of all of the belts…
Of course in the build up to their scrap, much has been talked about the fight with Taylor. The hope is that Serrano comes through this and is then able to make the Taylor rematch as a champion, however few think it will make that much of a difference if she loses as she has managed to become a legend by being a world champion already at no fewer than seven weight divisions!
That is who Hernandez bravely faces. Hernandez is the WBA champion and a formidable foe, so Serrano is happy for others to talk about the Taylor fight: she is fully focused on Hernandez. Hernandez comes from fighting stock – her father was a professional – and is likely to be a handful. This may only be her second professional fight outside of Mexico, but the last time she came out of her home country, she won the belt…
My View
I have highlighted that this is not the only four belt fight on the Madison Square Garden card. Super featherweights Alicia Baumgardner faces Elhem Mekhaled of France. Now, Baumgardner is a dynamo of her own making – a self-styled terror. This could eclipse the Serrano/ Hernandez fight as much attention is focused, in the media, on the Taylor/Serrano rematch. It may allow other fights to bubble and then erupt. I have my eyes on this one.
For me, therefore, the Serrano fight feels like a lot is riding on it, and that pressure is not in the ring. Whether that is going to end up with it being an over cautious chess match or just a fight that is perfunctory I am not sure but if Baumgardner thinks she can make a headline, I am sure she shall take it.
As for who wins – Serrano. She has the experience and the desire, the hunger for what is next, but Hernandez wants to feed her son and keep her legacy alive so, if Serrano is not at her best, the Taylor fight might be out the window. However, I don't think someone of Serrano's pedigree will let that happen.
Future History – and the week to follow…
UK – biggest and most notable – what should be the biggest news in the UK boxing scene
In Texas we have the WBC super featherweight title fight between Rey Vargas and O'Shaque Foster, but I shall be keeping one eye on Cardiff, where the British and Commonwealth bantamweight title fight is between Sean McGoldrick and Scott Allen.
Click Here to Order Boxing Interviews Of A Lifetime By "Bad" Brad Berkwitt