Ringside Report Looks Back at Former World Title Challenger James "Bubba" Busceme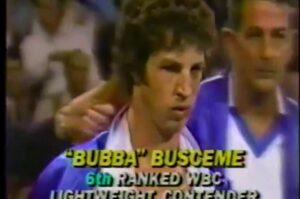 By Donald "Braveheart" Stewart
In the UK, the year of the Olympics for boxing fans has become quite an event. With a number of European amateur governing bodies alongside the US boxing association making their feelings known about the current governance of amateur boxing worldwide, it may be that, after Paris in 2024, we do not see boxing at an Olympic Games ever again. So, this fascination with Olympic boxing for the UK fan may be a short lived phenomena. But since the early part of the century, we have tuned in to see who is likely to be the stars of the future. Olympians have become prize catches for professional promoters so we see who shall follow in the footsteps of those flag bearers of our country who made a successful transition in the past.
But it was never always thus!
The amateur code had a cache, a prominence and an authority that the filthy appeal of money in the professional game sullied. People felt that there was nobility, and the Olympic creed of doing your best and playing the game was the highest ideal and accolade you could achieve.
For James "Bubba" Busceme, 31-6, 24 KOs, that could be argued. A 1972 Olympian, he was also a professional who fought between 1974 and 1976 in the pro game before taking 3 years out and then returning in 1979 and getting his one shot at a world title in 1982.
Busceme was a worthy example of how going from being a high-flying amateur does not guarantee success in the paid ranks but there is little doubt of both his pedigree and his hunger for success. A Texan, born on St. Valentine's Day, 1952, he was the state champion five times (1968-1972) and the National Golden Gloves champion four times – 1969, 1970, 1971 and 1972. Four times in a row! And the only amateur to have achieved that fate! His debut at the Golden Gloves came when he was all but 7 years old in 1959! He also represented the USA at the 1971 Pan American Games and returned home with a bronze medal.
It is reported that of over 500 amateur fights, he only lost 13 times.
And so at lightweight he turned up in Germany in 1972 to face the Olympic crucible. A 5-0 win in the round of 32, against Praianan Vichit of Thailand set up a round of 16 contest against Jan Szczepanski of Poland. It was a 3-2 win but not for Busceme, and out of the contest he tumbled.
This was a time (would it was a thing of the past) when the likelihood of fairness in the Olympics was as likely then as it was before AIBA got kicked out of the judging. Busceme was dominant in the fight against the Pole. With three judges from the Communist bloc, from Czechoslovakia, Bulgaria, and the Soviet Union, when the result was announced as 3-2 against Busceme, the disgust was universal – and vocal. It reportedly led to Busceme quitting the amateur version of the sport he loved: Michael Conlan had someone before who him who suffered the same fate… Szczepanski, however, went on to win the gold medal…
And so, on the 17th of June 1974, Busceme at the Red Carpet Inn, Beaumont, turned professional and stopped Arturo Cirillos in the 5th round of a scheduled 8. Things began well and Busceme went on a bit of a run. But just over a year later, in the Civic Center in Lake Charles, Busceme, who liked a scrap, found himself being stopped in the 8th round whilst up – only just – on three of the scorecards against Johnny Copeland. Two fights later, Warren Matthews stopped him again, in the very same venue in 1975. Matthews and Copeland were believed to be two guys, likely to give a good account of themselves but up against a man of Busceme's pedigree, not prove too much of a test – but Busceme liked to mix it and found that in the professional game, that was not always a wise policy!
After the Mathews loss, Busceme walked away from the sport and went on his four year hiatus.
His return did not see a smooth return with every fight a win, but on the 29th of October 1981, he beat James Martinez on points in Fort Worth to win the Texas Combative Sports program USA Texas State Light championship which probably took less time to win in 12 rounds than to say!
But it led to the 13th of February 1982, one day before his birthday that Busceme faced ring legend "El Explosivo" Alexis Arguello for his WBC lightweight title. And Busceme brought it to Beaumont! For five rounds, Busceme was in it until in the sixth he got caught with a shot. Following up with further punishment it was stopped and Busceme's one world title fight ended with him, the scorecards separating them by a single point on all three cards, though Busceme was behind on all three, being stopped in the sixth round. Interviewed some time later it was hardly surprising why Busceme did not win the fight. He told one reporter: "The situation with my training camp was so ridiculous. Before the fight, I didn't know a thing about Alexis Arguello. Boxing was just something I did periodically with my life."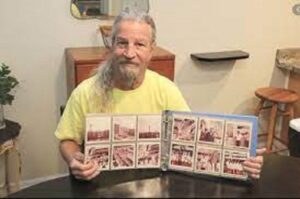 That periodic relationship with the square ring finished when in 1983, again in Beaumont, trainer Angelo Dundee pulled him out of his last fight in the 2nd round against Mike Anderson and he retired. Following his retirement from the sport his new found career includes annual stints as boxing teacher in Belize as well as being a manufacturing rep for a sportswear company. But perhaps his greatest fight and victory came after an accident in 2005 when he fractured vertebrae around his spinal cord. If you want to find out how the accompanying surgery and recovery went you can visit him on the beach at San Pedro, Belize where he walks each day – a clear fighter from the 7-year-old who fought in his first Golden Gloves, to this very day…
Click Here to Order Boxing Interviews Of A Lifetime By "Bad" Brad Berkwitt