Florida GOP Attacks Anti-DeSantis Bloggers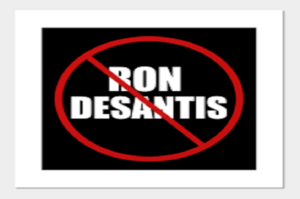 By Nikki Slusher
This article is one that is truly shocking to write. As a Floridian, I never thought I would see the day where our state government would attack every single person who does not hail the governor. Let this piece be a loud warning to the rest of the nation — Ron DeSantis is scarier and much worse than Donald Trump.
Another bill proposed by Florida Republicans this week would require all bloggers who write about Governor DeSantis, his Cabinet officials, and members of the Florida legislature to register with state and file reports. The measure is specifically aimed at bloggers who are compensated for online posts about elected state officials. Bloggers would have to register with the Florida Office of Legislative Services or the Commission on Ethics; it would not include newspapers and similar websites.
"If a blogger posts to a blog about an elected state officer and receives, or will receive, compensation for that post, the blogger must register with the appropriate office … within 5 days after the first 164 by the blogger which mentions an elected state officer," the bill states. It was introduced by Republican state Sen. Jason Brodeur from Seminole County.
The bloggers would also need to file monthly reports detailing "where, when and by whom the post was published, plus the amount of compensation received. Failure to file reports could lead to fines" per The Hill. A blog is defined in the bill as "a website or webpage that hosts any blogger and is frequently updated with opinion, commentary, or business content" and a blog post as "an individual webpage on a blog which contains an article, a story, or a series of stories."
I'd like to remind everyone that Sen. Brodeur has been under investigation in a Central Florida political "ghost candidate scheme." In October of last year, disgraced Seminole County Tax Collector Joel Greenberg testified on Brodeur's knowledge of the plots to run bogus candidates, or ghost candidates, in Brodeur's 2020 state senate race. Multiple other Florida GOPers have been charged for their roles in the scheme.
This is just the start of a very slippery slope. Florida Republicans are boldly showing who they really are — fascists who only believe in freedom for their own.
Click Here to Order Boxing Interviews Of A Lifetime By "Bad" Brad Berkwitt