"The Price is Right" Host Bob Barker Dies at 99 – Entertainment News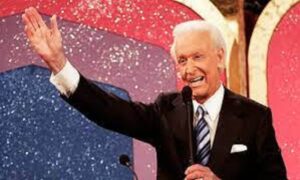 By Geoffrey Huchel
Iconic and legendary are just a few of many words to describe Bob Barker, the longtime host of the daytime game show THE PRICE IS RIGHT (1972-). We can also add the words charming and beloved in front of his name. Because he was all those things and more. To many of us he was also a member of our families, having been in our homes and keeping us entertained 5 days a week for more than 5 decades.
Bob Barker sadly passed away August 26, 2023, from natural causes at his Hollywood Hills home. He was 99.
Barker's career began in broadcasting when he was given his own radio show "The Bob Barker Show", which ran for six years. In 1956 he began his game show career hosting THE ALL NEW TRUTH OR COSEQUENCES (1950-1988). In 1972 he took over hosting duties for THE PRICE IS RIGHT until his retirement in 2007. After his retirement he made three return appearances on THE PRICE IS RIGHT in 2009, 2013 and 2015.
Barker was also a longtime host for both the Miss Universe and Miss USA pageants from 1967 to 1987.
He appeared on TV shows such as BONANZA (1959-1973), THE NANNY (1993-1999), YES, DEAR (2000-2006), HOW I MET YOUR MOTHER (2005-2014), and FAMILY GUY (1999-). He also made an unforgettable appearance in the Adam Sandler comedy HAPPY GILMORE (1996).
Barker was an advocate for animal rights and of animal rights activism, supporting groups such as the United Activists for Animal Rights, People for the Ethical Treatment of Animals (PETA) and the Sea Shepherd Conservation Society. Barker was so passionate about this cause that he ended every episode of THE PRICE IS RIGHT by famously declaring "This is Bob Barker saying help control the pet population, have your pet spayed or neutered."
Ringside Report sends our condolences to Bob Barker's family during their time of grief.
Click Here to Order Boxing Interviews Of A Lifetime By "Bad" Brad Berkwitt