Former Smash Mouth Singer Steve Harwell Dies at 56 – Entertainment News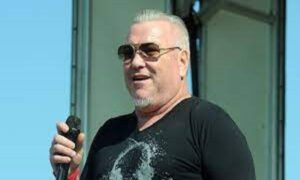 By Geoffrey Huchel
Steve Harwell, the former frontman of the band Smash Mouth, passed away September 4, 2023 at his home in Boise, Idaho. Harwell was in hospice care due to liver failure. He was 56.
Harwell was the lead vocalist and frontman for Smash Mouth from its founding in 1994 until retirement in 2021. Smash Mouth released 7 albums and 19 singles, including their most well-known singles "All Star", from their 1999 album Astro Lounge.
Smash Mouth band members paid tribute to their former bandmate via Instagram shortly after Hartwell's death, saying "Steve Harwell was a true American Original. A larger than life character who shot up into the sky like a Roman candle. Steve should be remembered for his unwavering focus and impassioned determination to reach the heights of pop stardom."
Ringside Report sends our condolences to Steve Harwell's family during their time of grief.
Click Here to Order Boxing Interviews Of A Lifetime By "Bad" Brad Berkwitt