Matt Gaetz Suggests Teaming With Dems To Oust Kevin McCarthy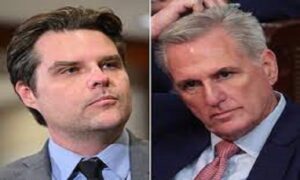 By Nikki Slusher
Rep. Matt Gaetz (R-FL) is willing to do anything it takes to get rid of Speaker Kevin McCarthy (R-CA). Even if it means working together with some unlikely allies – the House Democrats.
"On this very floor in January, the whole world witnessed a historic contest for House Speaker. I rise today to serve notice. Mr. Speaker, you are out of compliance with the agreement that allowed you to assume this role. The path forward for the House of Representatives is to either bring you into immediate total compliance or remove you, pursuant to a motion to vacate the chair," Gaetz posted on X on Tuesday afternoon.
"I know that Washington isn't a town where people are known for keeping their word. Speaker McCarthy, I'm here to hold you to yours," he continued. Accompanying his remarks was an over four minute video of his speech on the House floor.
Prior to Tuesday's speech, Gaetz suggested an unlikely alliance with Rep. Eric Swalwell (D-CA) to end McCarthy's speakership in a response to Swalwell's post calling out both Republicans. "I've never seen a colleague make more empty threats — day in/day out than this guy. Gaetz folded like a cheap card table to make McCarthy speaker and will never — I repeat never — make a motion to remove McCarthy. I do not work with serious people," Swalwell replied to the idea.
Gaetz directly responded to the California congressman: "If I make a motion to remove Kevin, how many Democrat votes can I count on?" In a following post Gaetz clarified about possibly teaming-up with Swalwell to oust McCarthy. Media outlets have reached out to both Gaetz and Swalwell for further comment.
While McCarthy may have announced on Tuesday that he will have the House open an impeachment inquiry into the Biden family's business practices, this feud between the squeaker of the House and the accused sex trafficker is really just starting to heat up. Grab some popcorn and a cold one. This is going to be one hell of a show.
Click Here to Order Boxing Interviews Of A Lifetime By "Bad" Brad Berkwitt