Tyson Fury… Oh Let The Fury Reign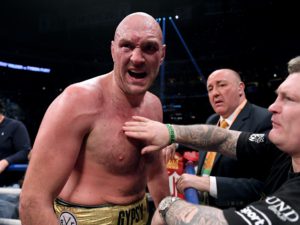 By Donald "Braveheart" Stewart
An opinion piece from the only Donald worth listening to…
Full Stop – In British English grammar a full stop is a lengthy pause, in the US, you call it a period. In the UK that tends to suggest feminine products. Here it means a period of time where I look at something in boxing in a little more depth. I am typing from my perspective of a fan who watches the sport closely. It's an opinion. It is my opinion. Don't like it? There are other opinions out there but if you don't like it then good, debate and democracy are a good thing. If you do like it, feel free to spread the word.
Body and Soul …
This last week or so there has been a round of media pit stops for the Tyson Fury/ Francis Ngannou fight. Ever the showman, Fury could not stop himself from getting his top off, calling everyone he didn't like dossers and playing to the crowd.
Right now, he is by far the biggest star in boxing, as he has a Netflix series on and his troubles with his mental health have been, once again told to the millions tuning in. It's a far cry from the young man who, in 2015, having beaten one of the Klitschko's had made derogatory comments about homosexuality and there were calls for him to be barred form the BBC Sports Personality of the Year awards because of his views. The greatest win in British boxing for decades was being sullied and trashed by the very man who achieved it.
He then went on a spiral.
Tyson Fury was not media savvy at the time and could not handle the pressure being placed upon him. Many felt what happened to him next was an own goal: he was the architect of his spectacular fall from grace. As it turns out, his health was an issue and months of video, pictures and social media attention brought Fury's weight and behavior to a focal point for journalists and fight fans.
Then he came back and spanked Deontay Wilder, three times. Fights with Oleksandr Usyk and Anthony Joshua have been teased, negotiated and binned. He is now fighting a former MMA heavyweight champion. Money clearly talks.
It shall be the biggest boxing event this year generating untold millions of any currency for both fighters and possibly some new eyes on the sport. I have written before about the fragile nature of Fury's mind and how that may manifest itself as his pronouncements, deadlines and changes of heart get played out publicly across the media. When he took his top off whilst on the tour with Ngannou, he showed a bit of extra weight. Sugarhill Steward, his trainer paid it no heed, implying that he could go up and down as much as he wants, a long as he is fighting fit when the first bell sounds.
Another fighter who used to go up and down in weight between fights was Ricky Hatton. He wore a fat suit at one fight to mock the way people saw him as Ricky Fatton. Of his mental health issues there have been interviews, an autobiography and a new documentary showing just how a fighter who has done it all and made his millions may have nothing in his mental bank to make retirement and the silence within it a happy time.
None of us who tuned in to watch or drank Las Vegas dry when he got there for Manny Pacquiao or Floyd Mayweather Jr. realized what Hatton was dealing with. We just wanted a Hatton Wonderland to end up with a win for our guy. But there were deep issues which affected him, his family and could have ended up with another sports star taking his own life – just like Fury has admitted he came close to.
Both were out or have been out of boxing for a time. Each struggled with that reality, and each have found a way through it – perhaps Hatton has found a better way because after his exhibition fight with Barrera – which was pretty decent as a contest for the purist – he has not been competitively tempted back, like he was years ago. He looks more contented; Fury looks a bit overweight.
It might be nothing, it could be something – but what is needed in the boxing business is more than just a commission saying he is physically well enough to go on tonight and box. It needs proper assessment, support and treatment for the boxers coming through. What Fury/Ngannou does is dangle the multi-Million $ carrot in front of up-and-coming fighters who will be fast tracked and given huge paydays against dangerous people to make their grade. Once in prime position, world title fights can be made and people who are perfect physical specimens may be standing on scales crying on the inside, desperate to get out of the ring as fast as they can – perhaps even with a new loss on their record. It's easy to write mental ill health is no joke – it's hard to resolve that and many fighters are being talked about in such glowing terms that by 10 fights in, they are world beaters – they aint, unless they have boxed in the amateur code to a decent standard. In short, they need experience to be decent fighters and you cannot get past that. But if you have a few spectacular wins on the TV, you can skip past needing experience to being old enough if you are good enough and then the clichés begin to flow easily as they trip off a forked tongue. Then you know things are going badly when you hear excuses, followed by silence as the ones happy to be with you when you are winning would rather be with someone else who is winning whilst you are losing. That loneliness is tough.
Of course, there may well be examples of fighters who make my assertions seem daft – they prove I am wrong, because they had no real amateur experience but are world champion in a fortnight.
But, given that someone can enter a boxing ring with no previous experience and take away such riches, is it any wonder that young and up-and-coming boxers who see that get jealous, perhaps even desperate to emulate that success as quickly as possible – and what does that say to the guy peddling drugs to enhance their performance… Nothing in any sport happens in isolation and we need not just joined up thinking, but positive thinking and action to make things better.
Click Here to Order Boxing Interviews Of A Lifetime By "Bad" Brad Berkwitt