"NCIS" Actor David McCallum Dies at 90 – Entertainment News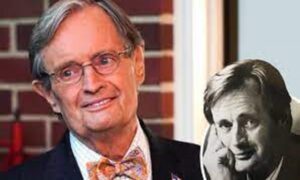 By Geoffrey Huchel
Actor David McCallum, known for his roles on NCIS (2003) and THE MAN FROM U.N.C.L.E. (1964-1968), passed away September 25, in New York City. Cause of death was reported as natural causes. McCallum died just 6 days after his 90th birthday.
McCallum began his career performing boy voices for BBC Radio in 1947 and taking bit parts in British films in the late 1950s including NIGHT AMBUSH (1957), THE SECRET PLACE (1957), VIOLENT PLAYGROUND (1958), and A NIGHT TO REMEMBER (1958). McCallum's successful career spanned over seven decades in television and film. He was nominated for three Emmy Awards and a Golden Globe for his role in THE MAN FROM U.N.C.L.E.
His additional filmography includes WUTHERING HEIGHTS (1962), THE GREAT ESCAPE (1963), PERRY MASON (1957-1966), THE GREATEST STORY EVER TOLD (1965), PLEASE DON'T EAT THE DAISIES (1965-1967), THE WATCHER IN THE WOODS (1980), THE A-TEAM (1983-1987), MURDER, SHE WROTE (1984-1996), LAW & ORDER (1990-), SEX AND THE CITY (1998-2004), and JAG (1995-2005).
Ringside Report sends our condolences to David McCallum's family during their time of grief.
Click Here to Order Boxing Interviews Of A Lifetime By "Bad" Brad Berkwitt