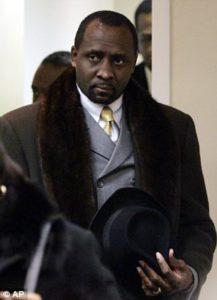 By Vinny "Glory Days" Lucci
History has traditionally been more than kind to its heroes especially when it comes to the sport of boxing once the headlines fade to memories. There have literally been hundreds upon hundreds of solid fighters who achieved a championship belt, made a couple of defenses and had their dream fulfilled with a brief moment in the sun. The rarefied exceptions when a warrior steps forth eclipsing beyond being a survivalist and transmogrifies his era by stamping his name on it and boldly fights on into the next generation pillaging more championships along the way.
Thomas "The Hitman" Hearns was such an individual who usurped the accomplishments of his rival Sugar Ray Leonard and forged an iconic legacy that would undeniably stand up alongside the immortals. In examining a career most extraordinary Ringside Report picks up Part Two of the living legend where Tommy had to work his way back from redemption after being stopped in three brutal rounds against Marvelous Marvin Hagler in what is widely accepted thirty five years after the event as the greatest pugilistic carnage ever witnessed by fans, media or historians.
One year later Hearns was matched against number one contender undefeated James Shuler who stood equally as tall and shared same wingspan. Hearns looked nothing less than spectacular in stopping James in just over one minute of first round by double jabbing at Shuler's abdomen then shooting a right hand to chin after distracting the eyes in same fashion he knocked out the great Roberto Duran. In a touching and sobering gesture of brotherhood one-week later Hearns paid his respects at Schuler's funeral after he was tragically killed in a motorcycle accident. Tommy who had won James's NABF belt laid it over his coffin as a final tribute to a fallen comrade about to receive the time keeper's metaphorical ten count of the ring's bell.
With Hagler marginally backing off from a rematch when he instinctively knew his storied career was rapidly winding down especially after the most difficult fight of his career against John the "Beast" Mugabi, Hearns had to realign his compass and aim for other stars. He turned back the challenges of respected contenders Mark Medal and iron chinned Doug Dewitt.
His next move would be yet another triumphant footnote in the annals of boxing lore. Tommy would bypass the super middleweight division and gain fifteen pounds of muscle to challenge WBC Light heavyweight champion Dennis Andries; a significant transition that Leonard never dared attempt. Hearns walked his adversary down and stopped his naturally larger foe by tenth round TKO. Post-fight when Andries was interviewed on camera he was asked if Hearns had carried his thunderous power all the way to the light heavyweight division. His response with a still bewildered expression, "Yes, man, I believe he do."
Now with his third championship belt wrapped firmly around his still tight torso, Tommy elected to defy all logic and work his career in reverse still needing a legitimate middleweight title for his collection and seven months later having shred fifteen pounds of lean muscle took on top middleweight contender Juan Roldan for vacant WBC title. In a wildly entertaining shoutout Hearns stopped the brute before him by fourth round knockout making history becoming the first boxer ever to win legit titles in four weight divisions. Naturally sitting on his laurels and accolades was never Thomas's style as he was already envisioning yet one more foray into another weight class with the super middleweight division beckoning. First blocking his path to ascension was the ominous fighter known as Iran Barkley. Hearns put on a wicked display of accurate combinations breaking the challenger up inside the pocket with wicked left hooks as well as just beyond the gate with a rapier jab and straight right hands. Barkley was busted up about the face bleeding from both eyes and the mouth when they traded right hands around the two-minute mark of round three. Hearns sensing he did enough rib damage to Iran's carriage and had both headlights nearly shut launched what he hoped would be the coup de gras. Barkley out of gut instinct like a wounded animal threw a wicked right hand at same moment but his landed first crashing on Tommy's chin and felling his tormentor on his back. Hearns nobly rose on unsteady legs and beat the count but fight was stopped with first combination that landed. Many fans and media speculated that this was the end of an incredible story, when in fact the end of the fistic journey was nowhere in sight.
Tommy quickly rebounded five months later winning a decision over top rated James Kinchen for newly minted WBO super middleweight title. This enshrined Hearns as not only the first boxer to win four titles, but also the first to win five. Diehard Leonard fans would like to argue that he too won belts four and five but that is as delusional hypostasis. Three days after Thomas secured his fifth belt Ray challenged respected WBC Light heavyweight champion Donnie Lalonde to a catchweight bout at 168 pounds with the champion's belt on the line. For good measure the WBC said it was also for their brand-new super middleweight belt also. Record books logged in a Leonard victory by 9th round TKO. I am stating here, Ray never beat a legitimate light heavyweight champion but rather bested a dehydrated boxer who never fought at that weight making both titles a mockery. In an impromptu conversation with Donnie some years back I asked if he felt cheated by being forced to drain himself in order to secure the payday and asked if he had regrets. The forever gentleman told me "he never once used the catchweight as an excuse for losing and never will," but went on to say "if he had a chance to do it all over again, he never would agree to those terms."
Just eight months later the dynamic duo of Leonard and Hearns would finally see the long-awaited sequel come to fruition after eight long years of anticipation. Ray had told the media he would never grant Hearns a rematch unless he publicly admitted he was unable to continue when their first encounter was stopped. Seemed as if the victory wasn't good enough, Ray wanted the proud champion to grovel as well giving rise to the notion he only now challenged his astute adversary under the assumption that Hearns was long past his peak from one ring war too many.
In poetic justice this event would also bring the boys together in a unification once more with the WBO and WBC super-middleweight titles at stake. Hearns would get his revenge in the ring but not on the suspect scorecards that were controversial as well as unpopular with it's declaration of a draw. Hearns dominated by taking early lead and dropping Leonard in the third round. Ray would pick up a few middle rounds but was out fought through most of the bout and was dropped again in the 11th. This was a clear-cut injustice to both Tommy and the sport denying him victory and his rightful moment in the sun.
In retrospect all the fluctuating weight changes in constant opposite directions never allowed Tommy the chance to accurately defend his belt division by division. Sometimes I wonder what was Steward's motivation behind it and can only assume he made best use of opportunities when they presented themselves.
Hearns would defend this new belt one time against top competition in Michael Olajide winning a UD against a gifted foe blessed with speed, height and reach.
Tommy would vacate title and once again get his body to acclimate to the 175-pound division with two tune ups he quickly won by knockout setting the stage for his second Light heavyweight title championship against the long reigning and prosperous Virgil Hill. The WBA champion was a smooth boxer who had already made ten successful title defenses before Hearns once again removed a belt from a champion's waist. Hill was so exceptionally gifted he went on to recapture vacated belt a year later and again defend it successfully another 10 times.
In an ironic twist of fate Tommy's first defense would be against old nemesis Iran Barkley who had lost Thomas's middleweight strap to none other than Roberto Duran by SD. It took Iran three years to overcome losses to Michael Nunn and Nigel Benn which followed directly after. A second-round stoppage of Darrin Van Horn for his IBF super middleweight title put both men back on a collision course at 175. The handicappers surrounding the Vegas odds were speculating which boxer may have endured more punishment at this point in their careers. In a highly entertaining match, which yours truly thought Hearns did enough to keep his title the judges saw otherwise awarding Barkley a SD removing Hearns last legit leather strap in his storied career.
Not quite able to say goodbye to the adoring fans and the spotlight, Hearns inexplicably rose to the cruiserweight division and made one hell of a run in doing so. Hearns would fight twelve more times going a final 11-1, 8 KO's while picking up three lesser cruiserweight titles of the NABF, WBU and IBO.
The singular loss in that division came against Uriah Grant in 2000, where after a highly competitive first round Thomas injured his ankle in the second and was unable to come out of his corner for the third round with the speculation it was badly sprained or possibly injured the Achilles tendon.
In his final ring appearance in 2006, Hearns would stop one Shannon Landberg in the 10th round of a scheduled 10 rounder bringing closure to the hall of fame career of one of the greatest boxers to ever lace up leather.
Looking back at 61 years of age Tommy has given the world the best legacy he could afford through blood, sweat and tears; a hall of fame career. Take a bow Hitman, you earned it with all the accolades saved only for the rings most preeminent kings.
Read PART I of: Ringside Report Looks Back at Tommy "Hitman" Hearns by clicking HERE.
Contact the Feature Writers