The Intentional Lies Continue and Americans Continue to Get Sick and Die Because of – Yes, Like Hearing/Reading it or NOT–the Liar in the White House
[AdSense-A]

Loading ...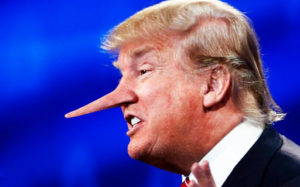 By Henry S. Villard
Fellow readers of Mr. Berkwitt's Ringside Report:
Indeed, as previously noted, I am not really a writer, this column being my first attempt at what might be called "serious writing." However, it is only "serious" because of the topic, and with each passing day, the topic and its consequences are becoming more dire and more ghastly, thanks to the one person—yes, one, no matter how hysterically the lying fanatics of the far right try to claim otherwise, including with that disgusting nonsense that the Coronavirus was a plot and a conspiracy between the Chinese and the Democratic Party. That load of sickening rhetoric is worthy only of a huge lawsuit for defamation.
As I have asked you to note previously, and unlike those who have no qualms about plagiarizing the work of others, including one person (who is still shown on national crime shows) who, in one of his books, actually plagiarized seven pages of another person's work, I would never engage in anything even resembling that type or kind of action, which, truth be told, is nothing more than stealing; while not stealing goods it is the theft of intellectual property and it is to be roundly condemned. In this case, particularly, because there is so much material "out there" from legitimate sources which must be properly shown and referred to, that kind or type of action is totally and completely unnecessary and that, of course, is the case with the below.
The following is from the newsfeed of MSNBC, directly from The Rachel Maddow Show. This, along with what will likely follow in the next some columns, will hopefully not only give you an understanding of what a total liar the man in the White House (along his assorted and associated lackeys) is, but, and above all, for those who might have been trying to hold on to some thin straw of support for that man, these columns will give you the reasons you have been seeking to "walk away" from a person who, among other flaws and faults, the least of them his ability to prevaricate and to project blame on to others, is a flagrant turncoat who would, I am certain, have no qualms about throwing his family "under the bus" if it would enable him to steal even more. Think carefully about this the next time you try to defend the indefensible.
The below is offered for your consideration.
"The White House hosted a conference call with governors yesterday, giving Montana Gov. Steve Bullock (D) an opportunity to explain that his state doesn't have enough coronavirus tests to properly address the crisis. The governor made clear that he needed immediate assistance from the federal government.
"As Rachel noted on last night's show, the president was incredulous. "I haven't heard about testing in weeks," Trump said on the call. "We've tested more now than any nation in the world. We've got these great tests…. I haven't heard about testing being a problem."
"Of course, if the president hasn't heard about testing being a problem, he must not be listening.
The New York Times reported:
"Many people who have symptoms of the virus are still finding it difficult to be tested, and many who have been tested are waiting more than a week to get results…. Although testing has picked up since a series of setbacks left the United States behind, governors have continued to warn in recent days that their response is still hampered by shortages, including of basic supplies like swabs. Gov. Jay Inslee of Washington, a Democrat, told CNN on Sunday that "we have a desperate need for the testing kits." And Gov. Ralph Northam of Virginia, also a Democrat, warned last week that there was a shortage of testing materials in his state.
"Jay Inslee told the Times yesterday, "It would be shocking to me that if anyone who has had access to any newspaper, radio, social networks or any other communication would not be knowledgeable about the need for test kits. I can be assured that the White House knows very well about this desperate need for test kits."
"All of which raises the question of why in the world the president is so confused about this basic, critical detail.
"Last week, as part of a harangue against Michigan Gov. Gretchen Whitmer (D), Trump said the Democratic governor "has no idea what's going on." It was among the president's more ironic attacks: those who understand "what's going on" realize, among other things, that state access to virus testing remains a serious issue in need of immediate attention.
Recommended
rachel-maddow-show After incidents, Trump's 'pattern of singling out women' emerges
maddowblogNational COVID-19 response useless for coordinating medical supplies:
"As for Trump's contention that the United States has "tested more now than any nation in the world," the Republican still doesn't seem to fully appreciate the nature of population-based comparisons: as of late last week, South Korea, which reported its first coronavirus test the same day as the United States' first, has tested 40 times more people than we have, on a per-capita basis.
"Trump added yesterday that U.S. testing is "very much on par" with South Korea testing. I wish that were true. It's not.
The sooner the president understands this, and tries to do something about it, the better."
From Henry: This president is like not only the former governor of Florida, whose company defrauded more money from Medicare than any other entity in U. S. history, but like most—not all (although I am not certain that is the case anymore) but most—Republicans, who have no sense of ethics and no moral compass, he is totally devoid of empathy, kindness or simple caring for anything or anybody from whom he can not or does not benefit. You are certainly entitled to disagree, but if you are a thinking individual you will likely recognize that this and the previous columns have "hit the nail on the head."
Please stay safe everybody, and to all of you nothing but good thoughts. With kindest regards from H S V.