Jade, Frank, Jack & Me: A Lifetime Of Love From Fur Babies
[AdSense-A]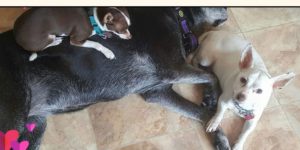 By Janet Grace
My best friend, Nikki, a very spirited Jack Russell, became very sick suddenly and although I'd spent a life savings doing all that was possible to help her, it was her time to return into the universe. She was fine with it. It seems that animals are wiser than we are when it comes to trying to make sense of these illusions known as life and death.
My last words to her were: 'I'm so sorry. I wish I'd had more time to make you better'. She gave me her paw, closed her eyes and was gone.
I couldn't go home alone. I was too distraught. The hole in my heart was throbbing and the only way I knew how to heal it was to love again.
I drove to the local pet pound and told them my story. They directed me to all of the puppies and kittens. Meanwhile, there was a giant puppy trying to get my attention like crazy. I'd already gone past her cage area and said hello. She tried to put her giant paw through the gate to greet me, but it was a bit too big.
That one's going to be huge, the attendant told me. You might want to stay with the same size you've been used to. I nodded in my stupor and continued to other cages. My attention kept going to the huge puppy. I didn't know how or why, but she knew me from somewhere and although I couldn't make the connection yet, the energy grew brighter when we came close and she was out of her mind trying to get to me.
I named her Jadin and took her home in that order. Jadin had been rescued from a black lab breeder in North Carolina. She'd just arrived hours ago and they had to pull strings to allow her to leave. I promised to spay her and off we went. BTW, that's their usual spiel. It's an AKC purebred, I truly didn't care, a soul is a soul and this one knew me.
Turns out, if you believe in reincarnation, Jadin was the dog I grew up with, Cheri, who was basically either stolen or rescued from a drunkard that had her off her feet, hanging her by her lead on 74th and Central Park West, right by the Museum of Natural History.
I was waiting for the light when I saw this happen and as soon as it turned green, I peddled like mad and drove my bike into the drunk, yanked the chain and pup away from him, picked up the bike, leaving him stunned on the ground. Then, I shouted at all the people clapping, for not having been the ones to save her. They watched and did nothing. After shaming them, I rode off with a very confused dog sitting in front of me who could've bitten the bejeezus out of me, but some kids don't think of those things. Thank Gods for that.
I then had to call my mom on a payphone and ask permission to bring the dog home. Stevie Wonder's, "My Cherie Amour", was playing somewhere and that's how she got her name.
I sang it to her all the way home, and here she was again as Jadin, black retriever and great dane mix, twenty years later. Oh, Boy!
I had a stroke shortly after adopting Jadin. Friends who train animals for service came to my house and trained Jadin as a service animal also teaching me how to continue the training with her. She knew when my body was off and I was about to get sick. She knew when I needed to stay seated. Try getting her a 100lb dog off your lap when she's looking straight at you as if to say: "Sorry, Mom, that's why I get the good treats. You need to remain seated. Someone's coming. anyway, I hear the tires on the road"
Hereeere's Frankie:
I was at a store that sold those deliciously scented everything's a year later and in walked a woman with the tiniest chihuahua ever. Little Miss was expecting. I blurted out that I wanted one before I could stop my tongue from violating the code of having the heart speak without the brain's consent.
A few weeks later, I picked up a 6 week old Frankie Blue Eyes from her. He was already eating hotdogs, and pizza, yay. Hence, my request to take him home early, where he was cared for and weaned properly, no more hotdogs and pizza.
Along with a bad tummy ache and sudden listlessness, his first vet visit revealed Frankie had leptospirosis, a disease so deadly, well, heck, think dog covid. With his compromised system, there was no way for a 16oz 7 week old puppy to survive it.
Yeah, stop the record.
Frankie lived. We beat that disease. Remember when I told Nikki that I wished I could have done more to make her better? Well, this was the same disease and Frankie, then, must be Nikki reincarnated — and I'm a Monkey's Uncle for believing it but, ya neva know.
Yeah. I told that doctor, Listen, Doc, what if I were Madonna, with all the money in the world. What would you come up with that you could try, that doesn't end in a death sentence? I made him an offer he couldn't refuse.
He said I could use subcutaneous fluids and that's where I swear I heard him say every four hours, so that's what I did. He had actually said twice a day. According to the doc who was astonished to see us at the appt 2 weeks later because he didn't think Frankie had a chance; I gave the little guy a total interior wash and it saved his life, eradicated the disease, left him with pancreatitis, and a bit of a compromised system but it was eleven years he wouldn't have known and we wouldn't have rejoiced over, had I not tried.
Jacqueline Bouvier Derriere
A year or so later, I received a call from a friend who asked if I had time to go pick up a tiny puppy left in a crate after the family returned to Sweden. I took Batman and Robin with me. Not only were they both professionally trained service dogs, they could help calm down a nervous or frightened pup in a jiffy.
Jacqueline adopted me. She was barking so ferociously in that little crate she was in. I had to ask the woman to just let me have the pup. I opened the crate and she jumped into my arms, hid her shaking little head underneath my arm and shook like a maraca. She stopped barking immediately and seemed to know I was there for her. We sat in the car and when she finally put her head up, I placed her in between her new brother and sister and they started licking her and she them. It was perfect. Life was already wonderful but by the time we returned to Long Island, those three were amigos and my life was about to get greater than great. When you have these little people that adore you and that you adore; that do whatever you're doing and live to love you, you return the favor.
When it's time to say goodbye is when you're weighing ever doing it again. Living through the pain of goodbye and farewell
And So …
Given that is too sad to bare, I believe that this world is a party and there comes a time when your chauffeur comes along and returns you to wherever it is that we go to when we're not on stage, here.
My personal view is that we're in the middle of a ride inside of an amusement park where rides include: going to different places, spaces, galaxies and riding games such as: EARTH CIRCA 2020, LEMURIA CIRCA BC5070, ATLANTIS CIRCA BC245, SATURN CIRCA 1982, etc. You can choose to be human, animal, plant life. Everyone's favorite is the Ride Entitled KARMA. THAT'LL drop you off mid chew inside a TRex's chomp!
Each ride lasts 15 minutes, but we actually feel as though we're living an entire lifetime. Your friends can come with you and drop in or out at any time along your life line or love line.
Quantum Jumping is when you remake yourself within one lifetime and jump on over to another life you want to experience, positive or negative.
So, what's next for me you ask? Well, I'm sad, of course. I didn't realise time had passed so quickly and it was already time to quantum jump … for them, not me, not yet.
I'm happy to report that when it was their time, Nov 19, 2019 and Jan 13, 2020, Frankie and Jadin only kept each other waiting 1 minute for one another and off they scampered, an 11 and 12 year old, racing each other to the next game in infinity, where they'll return together as bad-assed Honey Badgers.
Jacqueline and I are now teaching an itsy bitsy 10 week old kitten hiding underneath my bed to trust, because a rescuer's job is never done.
We named her KatyAnna.
[si-contact-form form='2′]