November 15th, 2020

Bad Brad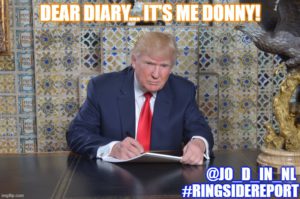 By Jo-Ann "Jo D NL" Duke
The diary scribblings of T4: Temper Tantrum Toddler Trump
Dear Diary,
Hey, big guy, it's me again. Everything is going gross and so bad for me. All anyone seems to care about right now is the stupid Covid thing. No one is really trying to help me make sure that I can prove that I won the election; they are still all going along with that sick joke, seriously!
It's driving me nuts. All I keep hearing is about how many more people are after getting sick and are being put in the hospital everyday. Seriously, not that many have actually died, remember they said at first it could be over 2 million.
But no, all the nasty and mean people are saying that I'm not doing enough for the sick people; what else am I supposed to have done, I have pushed and pushed to get a vaccine.
Of course, the stupid company didn't tell anyone about how good the vaccine is doing, well, not until after the election. It's so not fair, they knew that I needed that good news before the voting day.